Gil Goldstein & Marc Berthoumieux en DUO à New York le 23 septembre 2015
Gil Goldstein & Marc Berthoumieux at Club Bonafide
Wednesday, September 23, 2015 at 8:00 pm and 10:00 pm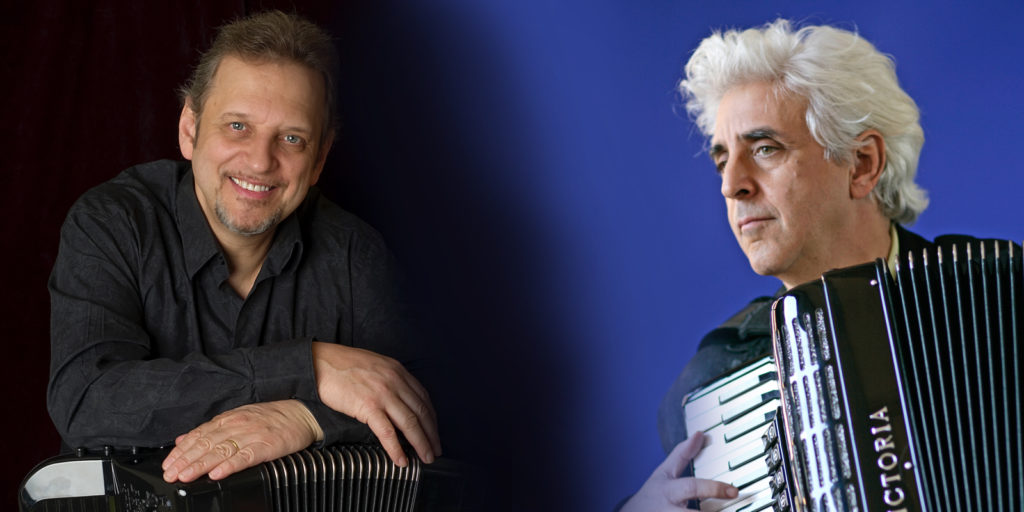 Gil Goldstein and Marc Berthoumieux have known and respected each other's work for many years. After years of trying to organise a concert together, they will finally meet for the first time for this surprising and unique duo show.
Gil Goldstein has had an incredible career as a pianist, accordionist, composer and arranger. It began with the Gil Evans Orchestra and continued with legendary artists like Wayne Shorter, Pat Metheny, Bobby McFerrin, Michael Brecker, Al Jarreau, Steve Swallow, Billy Cobham, Ray Barretto, Lee Konitz, Richard Galliano, Richard Bona, Sting and many others. He recorded a legendary duo album with Pat Martino. He made arrangements for David Sanborn, Paul Simon, Michael Franks, Juliette Greco, The Manhattan Transfer and many others. Goldstein is also a professor at New York University.
Marc Berthoumieux is a French composer and jazz accordionist. He performs with his own band and with artists like Didier Lockwood, Charles Aznavour, Harry Belafonte, Gilbert Becaud, Georges Moustaki, Youn Sun Nah and many others. He accompanied Dee Dee Bridgewater for a tour of more than two hundred concerts. (On the « J'ai Deux Amours » World Tour). He composed for Claude Nougaro, Richard Bona and French slammer Grand Corps Malade. He recorded his latest album « In Other Words » album with Giovanni Mirabassi Henri Texier and André Ceccarelli. Marc also conducts workshops at the famous french Centre des Musiques Didier Lockwood in Paris.
Club Bonafide, owned by world-renowned musician Richard Bona, is bringing live music back to 52nd Street!  Hearkening back to the golden age of jazz in the 1930's, 40's & 50's, this eclectic venue features world-class artists performing a variety of musical genres including world, jazz, blues, funk, soul and more.  Stocked with locally distilled spirits, locally brewed beer and locally made food, this club is offering a truly unique New York City experience.